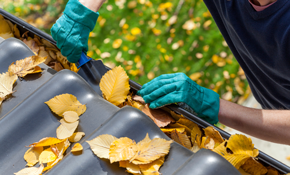 Gutter Cleaning For Up To 4000 Sq. Ft. Home
Regular price $209.00 Sale
The Fine Print
 

Valid only within 55 miles of zip code 43055.  $5 fee per every extra 100 sq ft of house for gutter cleaning.  Appointments available Monday-Friday.

 

Merchant is solely responsible to purchasers for the care and quality of the advertised goods and services.  Flushing of gutters can be added on for an additional $50.
About Sure Shine Cleaning Solutions
Instead of hauling your rickety ladder and mélange of cleaning supplies out of the garage whenever your windows seem grimy, leave it up to the professionals of Sure Shine Cleaning Solutions to keep glass in sparkling condition. The cleaning crew ventures to homes and businesses to scrub panes of all types, from standard windows to skylights. They remove, clean, and reset screens, too, ensuring that pleasant breezes and neighborhood views aren't fouled by lingering dust and reanimated bug corpses. In addition taking care of windows, crews also tackle the task of clearing out gutters.